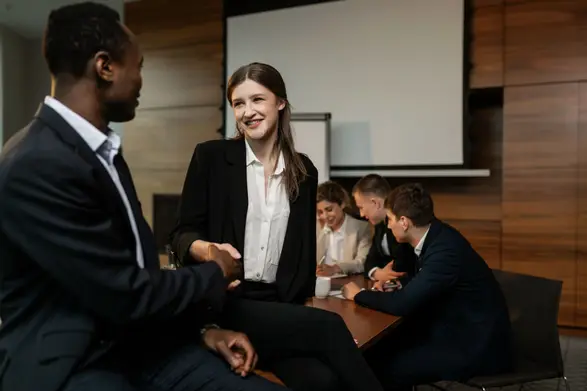 The Path To Well-Being, LLC works with clients to create a negotiation culture that drives profit, diminishes risk and lowers cost. Negotiation consultants partner with you face-to-face or remotely to implement an adjustable process and proven methodology while ensuring you maximize a successful outcome. Whatever your negotiation - merger, trade union dispute, or simply navigating new commercial realities in a global upheaval - having a negotiation expert on your team delivers confidence, certainty and guaranteed outcomes.
Delivering excellence

Negotiation is a widely recognized core expertise for organizations, sales, procurement, and supply chain. Expert teams negotiate to achieve their business objectives. Many dependent on each other to realize their strategic goals. At The Path To Well-Being, we create a negotiation culture because expertise is essential to achieving commercial excellence. If you do not have a culture that enables your teams to negotiate successfully, you may struggle to deliver your strategy.
The Path To Well-Being works with commercial negotiation teams to find creative solutions to their toughest negotiation challenges. An expert consulting intervention ensures you and your team have the method, capability, confidence and mindset to move forward through the most challenging and complex negotiations and secure the best possible deal.

Bringing in a management consultant with many years of expertise and experience can give you a completely new and different perspective on your most arduous, complex negotiations. In addition, to prepare your party to conduct single or multiple complex negotiations, a seasoned negotiator ensures you consider many factors that can influence the outcome.

The core methodology starts with internal alignment on the objectives and understanding of success and failure. The next step is building a strategy and analyzing the best balance of power. Then, it is necessary to introduce tools and processes to help you make decisions and objectively analyze risk. The Path To Well- Being, LLC can also work with you to build communication plans to ensure team roles during the negotiation in the room.

Negotiating Consultants troubleshoot with the expertise to resolve significant issues and know how to get better results. Long-term solutions overcome systemic internal issues and remove the fear and uncertainty with clarity of action. Peeling back the layers is necessary to execute a better alignment. The Path To Well-Being, LLC understands challenges and removes barriers for a better path forward.

Looking into issues and solutions through a different lens helps clients resolve differences and come to an agreement!
Proudly Serving: Bristow, Chantilly, Herndon, Reston, Centreville, Fairfax, Springfield, Vienna, Tysons Corner, Fair Oaks, Gainesville, Haymarket, Manassas, Fredericksburg, Winchester, Middleburg, Woodbridge, Dumfries, Oakton, Falls Church, McLean, Sterling, Front Royal, Leesburg, Quantico, Stafford, Fredericksburg, Culpeper, Dulles, Brambleton, South Riding, Arlington, Annandale, Warrenton, Marshall, Bealton, Dunn Loring, Great Falls, Merrifield, Lees Corner, Oak Hill, Manassas Park, Manassas City, Fauquier County, Culpeper County, Rappahannock County, Prince William County, Fairfax County, Stafford County, Spotsylvania County, Frederick County, Loudoun County, Clarke County, Orange County, Alexandria, Washington D.C. and Surrounding Areas. Specialize In Veterans and their Families, Digital/online Available
Please call 703-382-6871 or email for a consultation by phone or online!